Car hire in Minsk. Useful information on rent a car from Naniko
Minsk is a Belarus' largest city, which during the Second World War was almost completely destroyed, but then, towards the fifties of the last century was restored by the order of Stalin. Although tourism is still gaining momentum, Minsk is an ideal location from which to start your journey toward the vast expanses, to sport activities, or immerse yourself in the learning of interesting facts of history, visiting museums, notably the National Museum of History and Culture, which will create you some idea of ​​the country.
To find a suitable means of travel for your trip, be sure to book a car hire in Minsk by the web-site of Naniko.com, where in real-time, you will get access to the best prices and a wide range of offers.
Get the preferred deals from Naniko on car rental in Minsk and start with the comfort!
After selecting a city, dates of your trip and car category, you will have the range of available vehicles.
In our fleet there are economical subcompacts, sedans, minivans, SUVs, and more, and with automatic or manual gearbox, petrol or diesel.
We always try to follow the market demands of services and offer the lowest prices with the already included taxes and insurance.
You will not expected by any unpleasant surprises of hidden charges, initially you will get the maximum information.
Granted unlimited mileage from the company will help you have more fun without worrying about the number of kilometers traveled.
In the event of unforeseen traffic problems, you can always count on prompt assistance of our technical team, available around the clock.
The right choice of vehicle renting in Minsk on Naniko will make your trip unforgettable!
Just a short distance from the capital, you can relax on the public beaches of artificial sea of Minsk. There are also available a variety of winter sports, like skiing in such ski resort as Silichi and Lagoisk, where you can practice your skills on the slopes of various levels of difficulty, snowboarding or tobogganing. Also interesting is a Belarusian cuisine, characterized by soups and dishes made with potatoes and kefir drink similar to yogurt, but with a very special taste.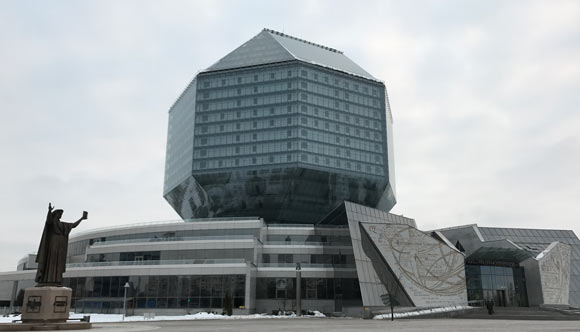 Minsk has a very attractive and interesting to visit the old town, which is located on the east side of the river. Trinity suburb was restored in the 80s and today looks exactly as in the seventeenth and eighteenth centuries.
Strolling along the river, you can see the Island of Tears, which is a memorial dedicated to those who died during the war in Afghanistan.
One of the most visible symbols of the city is a white cathedral of the Holy Spirit, standing on a hill.
Also read